A look at the past
Spot rates unpredictability made carriers took advantage of market conditions and supply shortages for the past two years. They were able to push for higher long-term contract rates and established terms and conditions that better fit their business. For example, Maersk incremented its multi-year contract share to nearly 70% of its long-haul volume.
Here you can see more about spot rates and its benefits
How will 2022 end?
A decrease in demand is taking spot rates down, stopping an astonishing two-year period in the container shipping industry. Carriers are expanding their share of spot and short-term contracts as demand decreases in the market.
This scenario presents an opportunity for small and medium shippers because they can take advantage of lower spot rates and contractual rates, and normally rely on the spot market. With recessionary scenes running high for the next year, world trade is expected to go lower than 2%.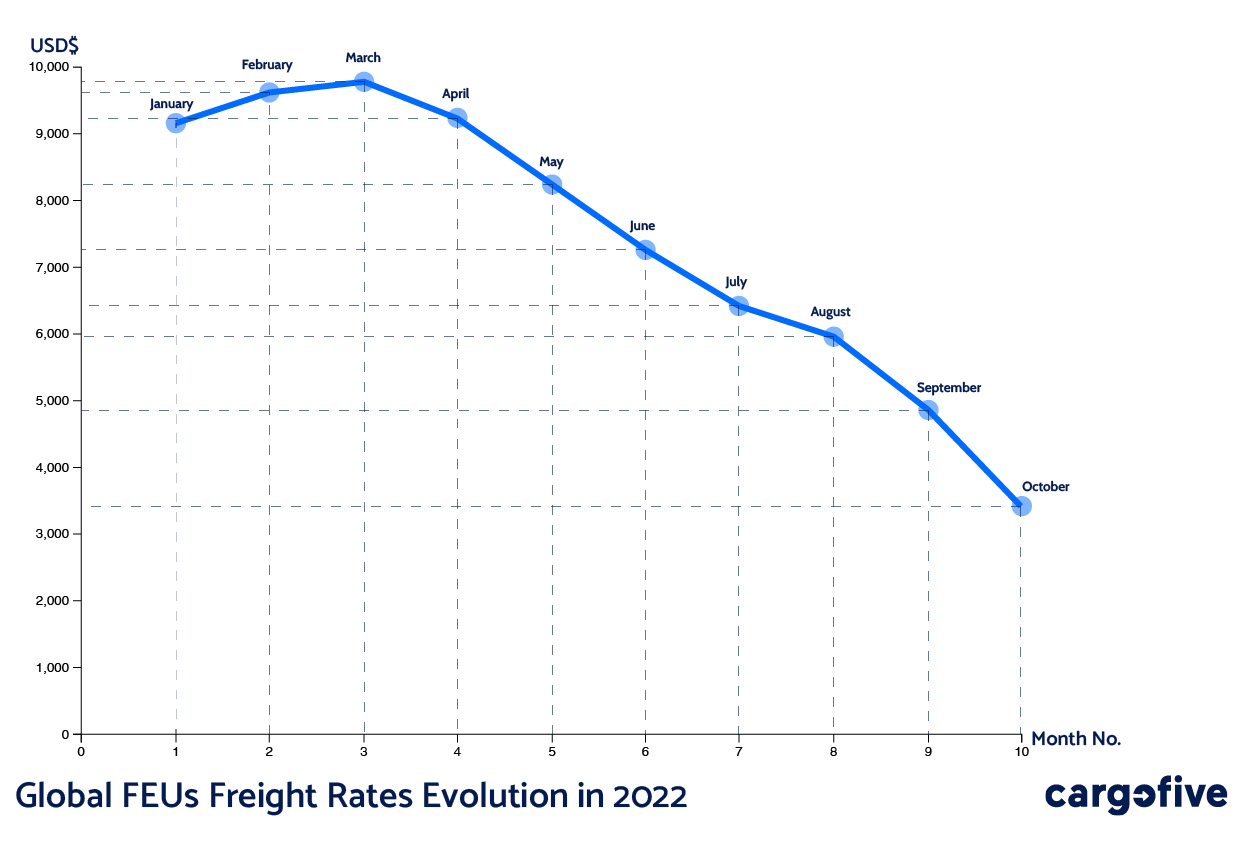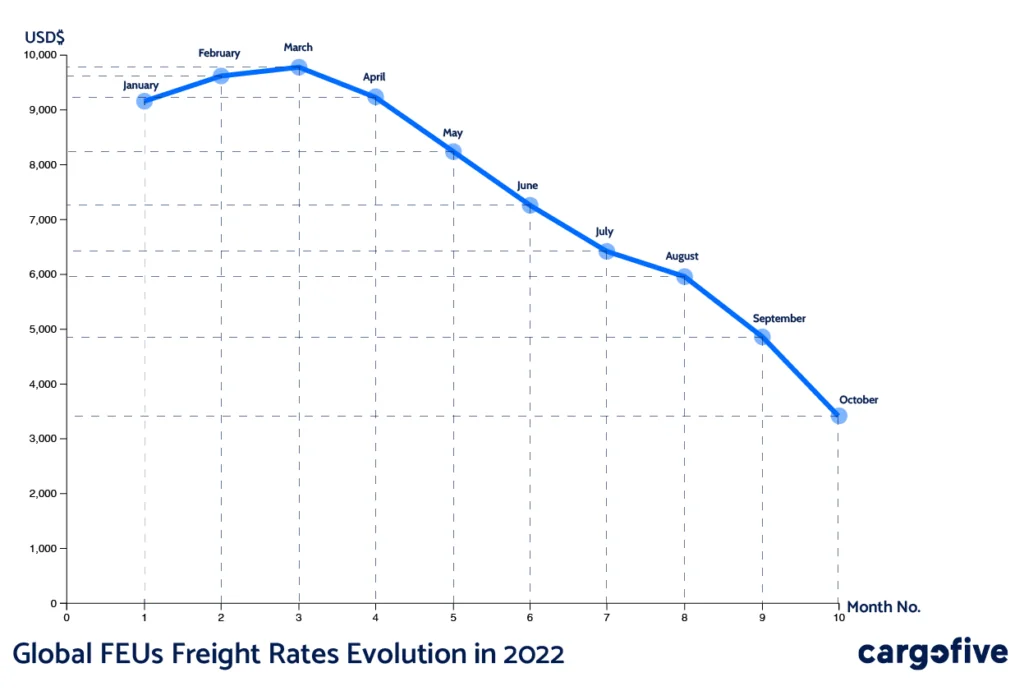 In the previous graphic, we can see that freight rates have decreased by 63% in the range from January to October.
What can we foresee for 2023?
It's expected that energy prices will remain high, affecting companies' costs and competitiveness. This would indicate the necessity of purchasing power at all levels, even though governments are trying to stimulate the demand flank with compensation packages. The unpredictability around the energy crisis in Europe, the hardened credit conditions in the US, and the decelerated growth in China's economy do not speak in favor of high demand.
A strong dollar has led to more expensive cross-border shopping in China. European consumer confidence has reached new lows amid the energy crisis, and even though consumer spending in the US stayed relatively high in 2022, it is expected to fall in 2023 while credit conditions and rising unemployment impact demand due to rising interest rates.
The already-in-action economic recession increased the risk of strikes and labor negotiations in the supply chain sector. Workers have seen how their purchasing power has eroded due to inflation and tough credit conditions, not to mention the high energy prices in Europe.
The Covid-19 pandemic still hits hard on China's ability to recover from previous lockdowns, and newer ones are presumed in 2023. Even though restrictions have become shorter and more focused, industrial and commercial activity will be hardly impacted. This increases port congestion, problems with inland transportation, and closed factories. Production's slow down affects export traffic, impacting local and global ports with unfrequent waves of containers, influencing sailing schemes.
Good timing for freight forwarders and digitalization
Nonetheless, not everything is looking bad for 2023. Creativity, opportunities, and adaptability will play a huge role in the freight forwarder industry in next year's game. Quoting Charles Darwin: "It is not the strongest of the species that survives, nor the most intelligent that survives. It is the one that is most adaptable to change." Some things escape our control, but we can manage the way they mark our lives or our business. In a nutshell, it all boils down to our ability to adapt.
We also need to remember that the outstanding numbers, specifically on the spot rates subject, we experienced for the past two years are expected to return to pre-pandemic levels despite the economic recession.
A tool like Cargofive can help you fight the consequences of the economic recession, thanks in part, to our integrations with the biggest carriers. You can decide with real-time data which is the best sea rate, be it spot rate or contractual one, for your business at any time and gain efficiency (we save you up to 90% of quotation time). Also, we integrated with the ERP or TMS of your preference, and have a customer support team that will help you with any requirement you need in a simple yet powerful platform.
Digitalization of your business helps you be more predictable and adaptable to changes. You can draw business growth quickly with these tools, get through the economic recession and maybe outperform your competitors.