Digitization in freights industry has been a slow but inevitable process. Nowadays we see more digital freight forwarders, shippers and carriers with automated processes. But what is slowing down their digital transformation? They are a mainstay for the digital revolution in the industry to finally take off, especially because if they offer real-time rates the whole business will radically change. It seems that something is preventing carriers to go all digital since there are only 2 of the world's top 12 carriers providing instant quotes. So what is it?
We can see on these days an increasing need to digitize all businesses around the world, and carriers cannot escape from it either. There have been some important advances in this digital transformation. But for it to be completed, they must offer instant quotes, which had always seemed impossible in the industry until a few years ago.
At the present time, most shippers expect to get quotes on real-time and they now have access to other rate tools to help on their procurement decisions. This has been the driver for carriers' evolution. Many of them have started using digital tools to keep up with the market's needs, although only a few have actually gone all for it.
What does it mean? Maersk and Hapag-Lloyd are the only two carriers providing instant quotes now, which is what shippers really want. They control about 25% of the total global container ship capacity, and along with the other world's top 10 carriers they handle 85%, according to Alphaliner.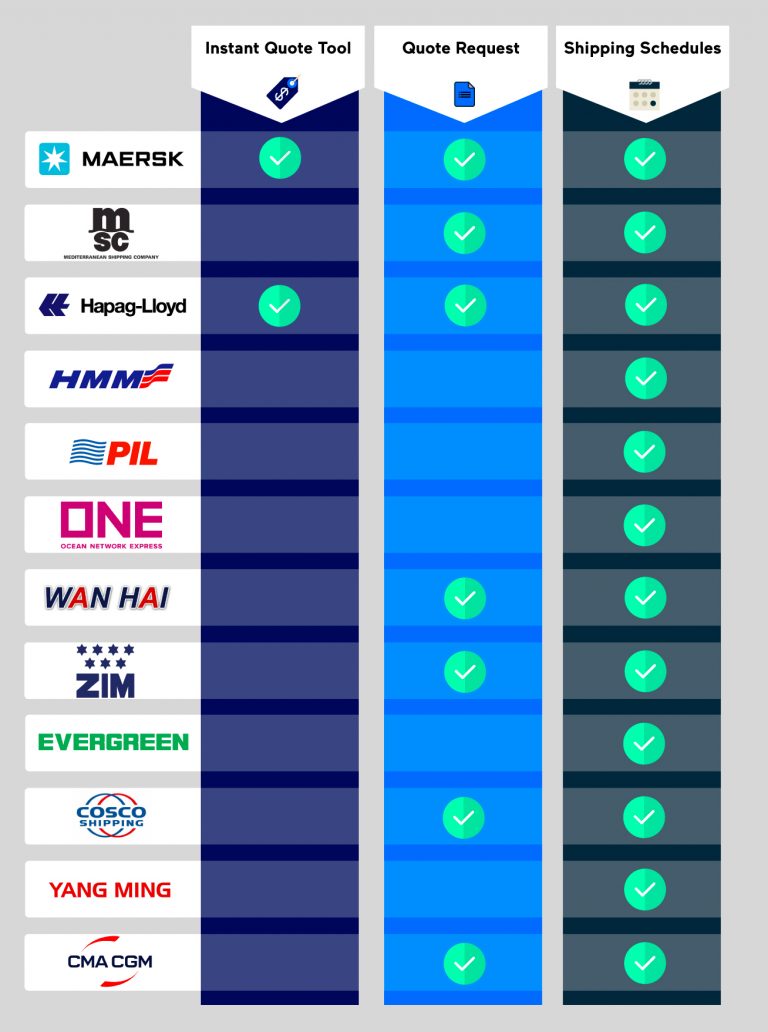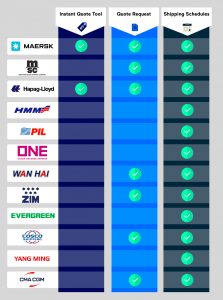 Source: JOC Analysis, IHS Markit
All of the top 12 carriers offer quick access to their shipping schedules, there is no problem with revealing that information. But what about pricing? 7 out of 12 allow their customers to request quotes online, and only 2 of them provide instant quotes.
So, why aren't most carriers providing instant quotes?
The main reason for this to happen is that carriers don't want to jeopardize their relationships with big volume shippers by having to commoditize their prices. Most of them believe that going all digital might affect their relationship-based leverage.
What they are not seeing is that taking rates to a dynamic online platform allows them to reach new market segments such as small and medium-sized enterprises and e-commerce shippers.
If carriers want to migrate shippers to an all-digital experience, they will have to invest in e-commerce tools for their businesses and they must offer instant quoting options. Most important of all, they should start changing their mindset and move from prioritizing rate opacity to offer more transparency.
This new world we are living in now is demanding increasingly for businesses to be transparent. Customers can easily access to more information than ever, so we shouldn't bother trying to hide things from them, especially if it delays the sales process. On the contrary, it is a great opportunity to actually improve the customers' experience to get more sales.
There are many benefits for carriers to use e-commerce tools to offer a better experience:
It reduces costs, as it is more efficient and there are fewer sales efforts.
It provides access to new market's segments, which are often undiscovered, such as small and medium-sized shippers.
It allows carriers to collect data from which they can benefit tremendously.
Nevertheless, it all comes down to deciding if they want to take on small and medium-sized shippers. If they don't, they will be losing this customers' segment to digital freight forwarders which can fulfill their need of immediacy.
There are already some freight forwarders offering instant quotes and taking advantage of it to get ahead in the market. For instance, there is Agility's Shipa Freight, Damco's Twill Logistics, DHL Global Forwarding, and Kuehne + Nagel's KN FreighNet.
In fact, knowing about how this is an important issue for shippers, at Cargofive we are helping freight forwarders to be able to offer faster quoting services. With our software, they can instantly access the rates information from carriers they have agreements with. This allows them to create quotes faster to make their customers happier.
Using rate management softwares has also increased freight forwarders' ability to quote faster and instantly. So, if carriers want to step up to the competition, they might need to develop improved quoting tools.
Digital transformation is not only about having the tools, it is also a matter of knowing how to use them and of changing the mindset. Carriers will have to stop dividing customers and start seeing them as one type. They must invest in digital solutions, such as instant quoting tools, and target other segments in order to survive and grow. We need more carriers like Maersk in the industry that digitize and standardize rate management. It is the key to evolution in freights business.