Digital transformation is hard, especially if we are talking about freight forwarding industry. It has taken some time to get technology involved in freights processes, but it's now more and more common to see digital freight forwarders and platforms that simplify or optimize a procedure. This is something no business in the industry can escape, it's time to adapt and keep up with evolution!
Changes take time. The whole history of mankind is full of adapting periods before the big changes took off. We can compare these days to the last century and we could say that the way of living is totally different, but it didn't happen in one night nor effortlessly. That's what evolution is about.
In 1963, only 1% of countries had container ports operating. Twenty years later, in 1983, they were present already in 90% of them. Yes, it took that amount of years to establish container shipping, but it finally changed the way to move things between countries and continents.
Keeping in mind technology adoption over the last hundred years, it may have been a bit long for containers to rule the sea. But, as time went by, the rate at which other technologies got adopted went faster.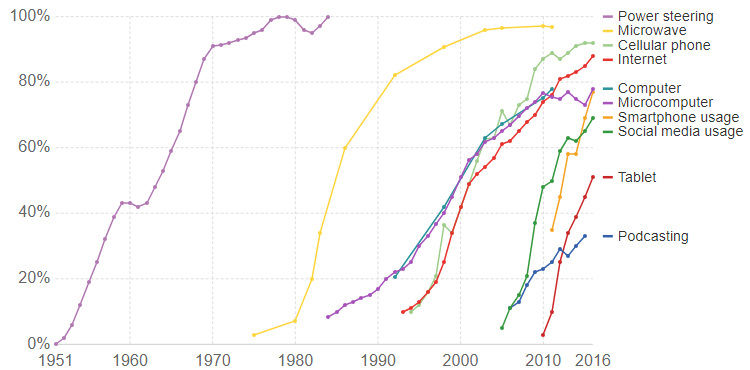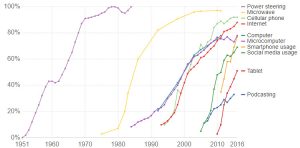 Source: Visual Capitalist
As we can see on the image above, it took 10 years for the internet to reach 50% of adoption, while the tablet reached it in 5 years or so. And, the adoption rate will probably continue to get faster as new technologies are rising. So, it may have been a bit slow compared to other industries, but the digital transformation in freight forwarding will come and it's not going to take the same 20 years that containers took to establish.
If we take a look at the international logistics industry, it has been evolving to a digital way of operating. It has taken some time, and for a while now most freight services are still manual and offline, but this will change soon. We could say it's a matter of time to get all of the industry digitized.
Let's take, for instance, travel agencies. A while ago, they were a really good business since people needed help to plan their trips, to buy the tickets, get reservations and everything they wanted to do on vacation. As the internet started to take over, agencies have struggled to survive. Nowadays, everyone has access to buy tickets and plan any trip online. There's no longer need to get travel agencies services.
So, what did they do? As we all know, the ones that stuck to the traditional way have probably all disappeared. But the smarter ones embraced new technologies and changed their way of operating to be where the market was leading to. They knew it was the only way to survive and grow.
Freight forwarders are not going to disappear, the main difference from the travel agencies is that a passenger can manage everything by himself, but containers can't. They need people working behind them with experience and know-how, who can handle the complexity that international logistics demand. Going digital can't replace this but, it can improve it, leaving manual tasks behind. Nevertheless, there can be freight forwarders left behind in the market by those who go digital. It's as simple as knowing that customers want an online experience and will prefer faster up to date services.
How are freight forwarders facing digital transformation?
Today there are many freight forwarders looking for the best way to go through their digital transformation. Here are some of the strategies they are working on with examples of each:
Developing autonomous digital freight forwarders:

Maersk set up Twill Logistics.

Making new in-house teams specialized in digital transformation and even hiring experts in the subject:

AllCargo brought in an ex-Paypal employee to lead their digital transformation process.

Backing up or joining startups through alliances and fundings:

CMA CGM created an investment fund and a startup accelerator program.
DB Schenker invested in uShip.

Including new softwares or tools that simplify and automate their processes:
Like I said before, it's only about time before all of this takes off and freight forwarding industry gets into an unstoppable digital revolution. But this is not going to happen overnight. Digital transformation is not only about having the tools. There must be a real change in traditional methods and process, and it takes time to get there.
It may be a slow process but, when it hits, the ones that stick to old traditional methods are going to face some hard time and struggle to survive. So, are you going to sit and wait until the digital revolution sets your freight forwarder apart from the market or are you going to be part of it? You can start digital transformation by making your rate management easier, getting sailing schedules on real-time, creating quotes faster and having a good visibility of your business. At Cargofive, we can help you with that!