Every day millions of cargo shipments travel from one port to another, connecting people and businesses all around the world. We tend to take for granted their job, but we are not actually aware of how much load they have to deal with. So, we decided to present to you the world's top 10 container ports based on the volume they handle.
International logistics is one of the most important industries in the world. It's in charge of moving goods all around the globe, so people can have everything they need and want. Around 90% of the world's trade is done by maritime shipping, handling big volumes. So, as international commerce continues to increase, ports have no other choice but to grow larger and work on their efficiency to satisfy the demand.
Trade volumes will keep on rising, that is for sure. In just four years, the average annual volume of the top 10 world ports went from 19.90 to 22.03 million twenty-foot equivalent units (TEU). So which ports made this top 10?
According to the World Shipping Council, the world's top 10 container ports are: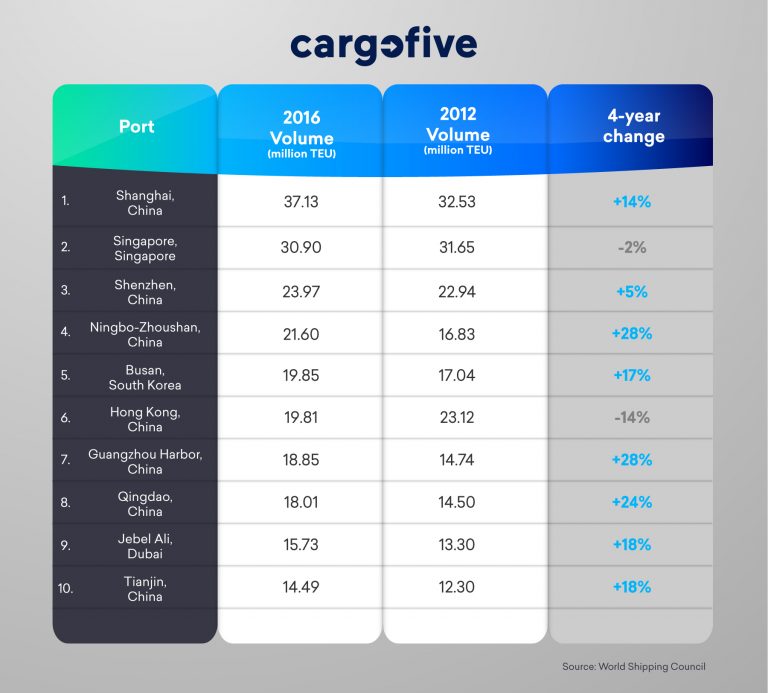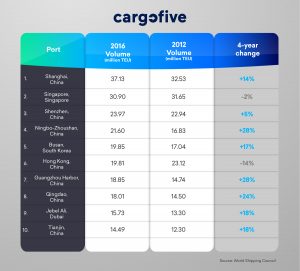 1. Shanghai, China:
In 2010, Shanghai replaced Singapore's port to be the largest one in the world, handling 29.05 million TEU. Ever since it has been setting historic volume records, and in 2016 it handled over 37 million TEU.
2. Singapore, Singapore:
The Singapore port was built in 1819 to help the country's economy because of its lack of natural resources. Soon, it became essential to import the supplies and then re-export elaborated products like oil refining. It now connects to over 600 ports in 123 countries and in 2016 it handled almost 31 million TEU.
3. Shenzhen, China:
35 carriers are based in Shenzhen's port, covering 130 international routes approximately, with 560 ships on call. This port handled in 2016 near 24 million TEU.
4. Ningbo-Zhoushan, China:
In 2015, after merging with the Zhoushan Port Group, Ningbo-Zhoushan port became the busiest one worldwide when looking only at cargo tonnage. It handled 21.60 million TEU in 2016.
5.Busan, South Korea:
Based in Busan, the second largest city in South Korea, this port is the largest one in the country. It started working in 1876, and in July 2010, it announced a year-on-year increase of 21.7% in container cargo output. In the year 2016, it handled 19.85 million TEU.
6. Hong Kong, China:
Situated at the South China Sea, the port of Hong Kong is a deepwater seaport, where trade in containerized manufactured products predominates followed by raw materials and passengers. This harbor is key to the economic development of Hong Kong. In 2016 it handled 19.81 million TEU.
7. Guangzhou Harbor, China:
This main seaport of Guangzhou also serves as the transport and economic center for the Pearl River Delta region and Guangdong province. The port handled in 2016 18.85 million TEU and is now dredging so that 100.000 tonnes vessels can enter Nansha terminal in low tide.
8. Qingdao, China:
Founded in 1892, the Qingdao port is located on the Yellow Sea. It is a relevant center of activity in the West Pacific for international trade and transportation. This seaport handled a bit more than 18 million TEU in 2016.
9. Jebel Ali Port, Dubai:
This is the largest man-made port in the world and the busiest one in the Middle-East. Jebel Ali is a deep-water harbor located in Dubai. It was inaugurated in 1979 to addition the facilities at Port Rashid. This port handled 15.73 million TEU in 2016.
10. Tianjin, China:
The Tianjin seaport, located in China, is known as the center of dangerous chemicals, like flammable and corrosive substances, toxic chemicals, compressed air, and oxidizing agents. In 2016 it handled 14.49 million TEU.
We can easily observe that most of the top 10 container ports are located in China (70%) and they are all ten in Asia. So, it is not rare to see that freights pass mainly through the South China Sea. This country has become the king of world maritime shipping in the last decade. About ⅔ of container trade passes through at least one Chinese port or ports that are being financed by China.
After seeing this ranking, it's not easy to believe that just ten years before, in 2006, only 3 of the top 10 ports around the world were placed in China. This shows how things can actually change when the market evolves into new trends. It can also be replicated in other aspects, such as digitalization, since the ones taking real advantage of it will probably be leading the market in a short time. So, every player in the logistics industry should be aiming to keep up with the market's unstoppable digital revolution.