Ocean carriers are key players in international logistics. They are in charge of moving goods from one place to another all around the world by sea. But, do you really know them and what's behind each one of them? Let's take a look at the top ten ocean carriers on the whole planet.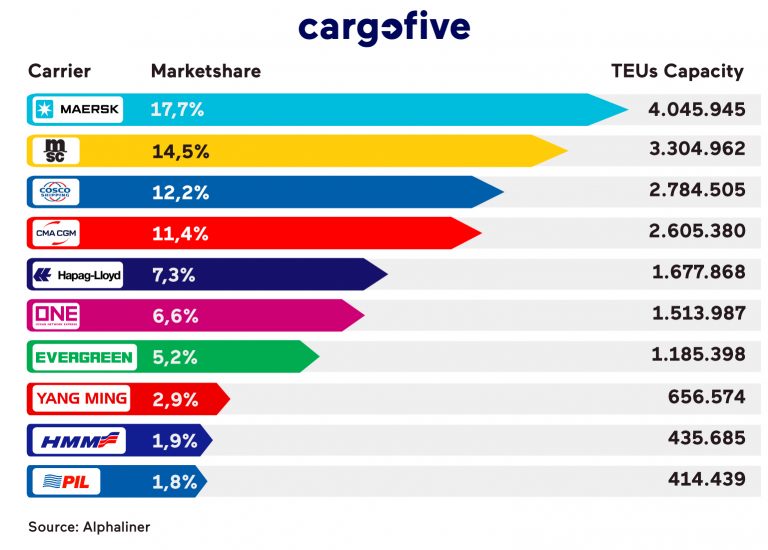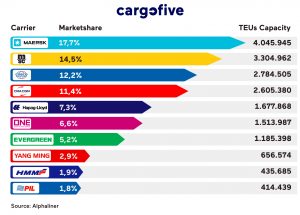 1. Maersk line:
The A.P. Moller-Maersk Group was founded in 1904 in Copenhagen, Denmark, and is now the world's largest carrier. With a global workforce of 79,000 employees across 130 countries, it operates more than 700 vessels that visit 343 ports worldwide. Maersk can carry over 4 million container boxes, measured as twenty-foot equivalent units (TEU), which gives it 17.7% of the market share in container shipping. This carrier is one of the most innovative in the industry and has been leading the way in the investment of new shipping technologies.
2. Mediterranean Shipping Company (MSC):
The MSC was founded in 1970 by an Italian named Gianluigi Aponte. It is based in Geneva, Switzerland, and it's known around the world as a container shipping heavyweight as well as a cruise liner operator (MSC Cruises). MSC has a 517 vessels fleet that calls on 315 ports. It has a capacity of 3.3 million TEU, which gives it 14.5% of the market share.
3. COSCO Group:
The China Ocean Shipping (Group) Company, is owned by the Chinese government and it's based in Beijing. In order to become the world's third-largest carrier, it merged with China Shipping Group in February 2016 and acquired Orient Overseas Container Line (OOCL) in July 2018. COSCO has a 2.7 million TEU capacity with 473 vessels, and a market share of 12.2%.
4. CMA CGM Group:
The French shipping company, based in Marseille, was founded in 1978. It is the result of the merger between Compagnie Maritime d'Affrètement (CMA) and Compagnie Générale Maritime (CGM). This carrier is now the fourth largest in the world, being one of the most aggressive about expanding market share. CMA CGM only broke into the top 10 shipping companies in 2000 and has up to date 492 container ships. It has a capacity of carrying 2.6 million TEU, which represents about 11.4% of the market.
5. Hapag-Lloyd:
This Hamburg-based company was founded in 1970, plus it was formed from the merger of Amerikanische Packetfahrt-Actien-Gesellschaft (HAPAG) and Norddeutscher Lloyd (NDL). Later on, in 2014, it merged with Compañía Sud Americana de Vapores (CSAV) to become a German-Chilean owned conglomerate and the world's fifth largest carrier. Hapag-Lloyd owns a fleet of 223 vessels and a capacity of 1.6 million TEU, which gives it a 7.3% of the market share.
6. Ocean Network Express (ONE):
ONE is a Japanese shipping company founded in 2017 and based in Singapore. It is the outcome of the merger between Nippon Yusen Kaisha (38% stake), Mitsui O.S.K. Lines (31% stake), and K Line (31% stake). This carrier has a capacity of 1.5 million TEU with 220 container ships, which represents 6.6% of the market share.
7. Evergreen Marine:
Founded in 1968, Evergreen is based in Taoyuan, Taiwan. It has a fleet of 203 vessels to carry 1.1 million TEU. The seventh largest carrier around the world has a market share of 5.2%.
8. Yang Ming Marine Transport Corporation:
Yang Ming was founded in 1972 and is now the eighth world's largest shipping company. It is based in Keelung, Taiwan. With a fleet of 97 container ships, this carrier can handle 656,491 TEU, which gives it 2.9% of the market share.
9. Hyundai M.M.:
This shipping company was founded in 1976 and is based in South Korea. It initially offered its container service between the Far East and the Middle East, but it has been growing since. Hyundai's capacity is of 435,685 TEU and with 77 vessels, it has a market share of 1.9%.
10. Pacific International Line (PIL):
PIL is a shipping company founded in 1967 by Chinese Chang Yun Chung and is consolidated in Singapore. This carrier operates 135 container ships and has a TEU capacity of 414,439, which represents 1.8% of the market share.
Over the years, Maersk has managed to stay at the forefront of the ocean carriers market. As you can see, other competitors have been joining forces to grow their capacity, which helped them to gain some positions in the top shipping lines of the world, but still, no one can take away Maersk leadership.
On the other hand, we already know that only 2 carriers are providing instant quotes. Why so? Well, most of the shipping lines are still not giving enough importance to digitalization and it may be setting a big difference from those who are. But sooner or later, this aspect will be decisive in the market's competition, so it's time for all of the ocean carriers to get up to date with the new era.
Source: Alphaliner