Having a
management system
in a
freight forwarder
is essential. Managing international freight logistics involves many people, as well as diverse and complex processes. That's why it's more than necessary to lean on technology. Fortunately, we now have softwares that make
freight forwarders
' work much easier. For instance, there's
Cargofive
. But what makes it special compared to the rest of the solutions?
Every freight forwarder faces multiple processes every day to deliver its service of carrying goods around the world. From the moment shippers make their request until the arrival of the cargo to its destination, there are a bunch of tasks to do in order to keep the business running.
Many freight forwarders continue to get all of their activities done in a traditional and manual way. As a result, some things that with the help of technology could be done in a few minutes are now taking hours and even days instead. If we take a look at the starting point, the pre-sales process is usually as follows: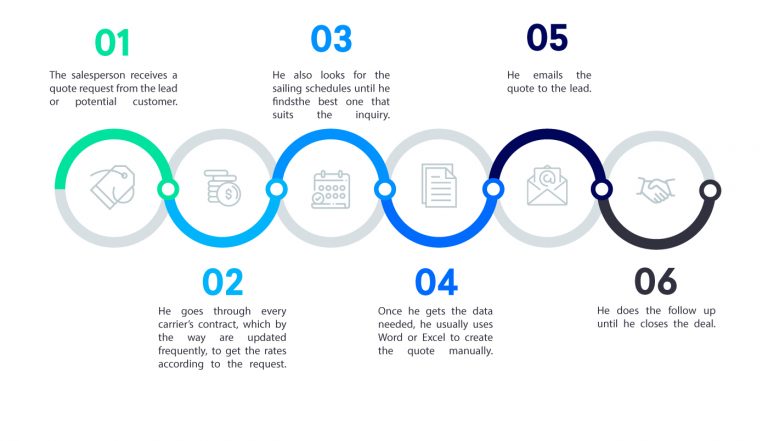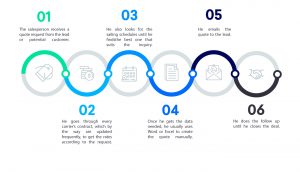 It takes on average 2 days for the shipper to get a quote from a traditional freight forwarder. Why? Because it takes a lot of dedication to get all the information needed and unify it to create a single quote. On top of that, the salesperson must respond to multiple requests every day and deal with the big possibility of making mistakes.
Thanks to technological advances, nowadays freight forwarders can count on management systems. Many of them are already going through their digital transformation and are relying on digital tools to be able to grow. Each software offers something different, but what they all have in common is that they want to simplify and optimize every company's processes.
Logistics systems:

They have specialized modules for each of the

freight forwarder

's areas. For instance, there are financial – accounting, operational and documental systems, among others.

Each provider has different functions, but the modules are usually interconnected to extract data from each other.

They automate most of

freight forwarders

' operational processes to get them optimized, which helps them lower the number of resources used.
Customer Relationship Management (CRM)

:

It stores all customer contact information (telephone numbers, e-mails, meetings, visits, conversations, tastes, and all relevant information).

It helps to do better follow-ups to customers by having all the information needed at the right time.

It offers more visibility to help and optimize commercial management, marketing strategies and post-sales services.

It improves both internal and external communication since all the information is at one accessible place to everyone.
Cargofive

:

It's focused on speeding up quotes creation, which helps to save a lot of time and resources.

It automates and simplifies rates and contracts from multiple carriers management.

It shows all of the sailing schedules from different carriers within the same system.

It includes its own

CRM

which helps to have a greater visibility of

freight forwarders

' specific sales process. This makes easier to have a better status control of each customer, created quotes and to develop more accurate strategies.
So, why should you use
Cargofive
even if you already have a
management system
?
The main difference between Cargofive and other management systems and CRM is that our software automates and speeds up the quoting process. Once the data needed is uploaded to the platform (rates, customers information, and requirements) and having real-time access to sailing schedules, it will take no longer than 10 minutes to create a quote.
Pre-sales process becomes much easier, efficient and optimized. To create a quote you just have to log in our cloud-based platform, choose the conditions required and the system will automatically create the quote. It can be sent to the shipper from our app to have a better visibility and control. The system will register the activity and quote, which helps to improve the follow-up process and to keep quotes management organized.
Using Cargofive has a lot of benefits. For instance, it eases the sales process, improves efficiency, the margin of error gets reduced and a lot of time and costs are saved. All of this gives the sales a boost and the business grows.
Only by implementing
Cargofive
, a
freight forwarder
could increase its
sales
by at least
5%
and get a
reduction of 80%
of the
time
employed in creating quotes. Awesome, right?
Many resources are invested in quoting, and the reality is that only a few of the quotes sent actually become a sale. The idea of having Cargofive's solution is that freight forwarders may reduce to a minimum the time they dedicate to create quotes so that they can focus on sales and develop strategies that boost their business.
Let's keep in mind that using Cargofive doesn't mean that you can't use another management system, actually, they can complement each other. This software was created to relieve a big part of freight forwarders' sales process and it doesn't cover all of the logistics involved in the service. Nevertheless, Cargofive's system is compatible with many management systems and they can be integrated to exchange the data they need.
It is time to take the logistics industry and freight forwarders to the next level with technology's help. It is part of our mission at Cargofive and we are totally committed to it.
You are only a click away from getting to know the digital evolution as a freight forwarder, so what are you waiting for?