Repetitive and manual tasks represent an obstacle for many freight forwarders and agents involved in international trade. Today, we can take advantage of the variety of digital tools at our fingertips to exponentially improve our processes and focus our efforts on other activities. For this reason, together with our friends at eTEU, we have decided to share the main challenges that may appear in the management of documentation and quotes, as well as focus on how to overcome them by making the use of digital solutions available.
The maritime industry's digitalization is already a fact and it's one that transforms our tasks, end to end. However, there are still certain processes that are yet to be reached by it, which means greater efforts for the people in charge of these tasks. Luckily, entrepreneurs in startups like eTEU and Cargofive noticed the issues and were motivated to develop digital tools to solve them.
Main challenges in the maritime industry
Nowadays, the logistics industry still heavily relies on paper documentation and manual operations. Both searching for freight rates as well as preparing the documentation for the shipment are usually done manually, and these processes take a lot of time, besides also being prone to mistakes caused by human error.
One of the greatest benefits of the maritime industry's digitalization is that it brings with it the automation of processes that previously required manual actions by workers. By its nature, tasks become tedious and time-consuming to make. With this in mind, we focused on the 3 main obstacles that can be presented to agents in the management of documentation and quotes:
Time and costs.
The documents required to export goods must be created one by one, which not only means the use of different physical and digital resources, but also the large amounts of time dedicated to this single task. Also, due to the repetitive nature of these tasks and manual labor, the increased risk of human error is present. This means that if a mistake occurs, the costs to be assumed will be higher and the time used will be greater.
Documents originals such as the Bill of Lading are still issued in the paper format and transferred between members of the supply chain using courier post. This is a huge issue that costs businesses around the world more than USD 200 Billion in unnecessary administrative expenses every year. Something very similar happens when preparing quotations and looking for rates among different shipping companies since different documents and platforms must be consulted one by one.
According to the recent study by the DCSA, using digital trade documentation instead of paper to manage international shipments would make virtually every step along the way more streamlined and more environmentally friendly. When it comes to the Bill of Lading, documentation costs for the paper-based version were estimated to be 3 times higher than processing costs for the digital documentation. According to DCSA, by digitizing this single document, logistics companies worldwide can save more than USD 4 billion every year. *
Inconsistencies
The process of preparing documentation for the shipment is also highly inefficient. The process of documentation drafting is extremely time-consuming and manual, it requires re-entry of the same information into multiple documents which leads to errors and results in mistakes in trade documentation. Thus, the documents have to be corrected and issued again – repeating the same process from the beginning.
Each company chooses those tools that are useful or that feel more comfortable, but often this means an obstacle to sharing information between different companies. The significant presence of this obstacle is also increased when they are in different countries or even continents. Something similar happens in terms of the standards used when creating documents and managing freight rates. Although there is a standard for documents, they are often altered following what best suits the needs or characteristics of the company. On the other hand, each shipping company uses different rate sheet formats as well as different names for surcharges and ports. If we add to this the diversity of systems and platforms used by the different agents, which in turn are not interconnected, the inconsistency is serious.
Insecurity
The information used to prepare documents and quotes is collected via unstructured communication channels such as emails and phone calls. The parties don't have a single communication channel where all members of the supply chain can securely collaborate on preparing documentation for the shipment. This carries a long time dedicated to response exchanges, plus there's big insecurity in sharing data, which puts at risk the operations of the company, databases, and even the data of its own workers. Furthermore, communication between the different parties is fragmented and it's difficult to reach agreements in a quick, simple and efficient manner.
Digitalization: our life jacket
The maritime industry's digitalization is increasingly necessary, and startups such as eTEU and Cargofive have appreciated it as an opportunity, especially taking into account the obstacles mentioned above. This situation motivated us to develop solutions adapted to workers in the maritime industry, putting into use the tools that digitalization offers us.
About that, Eduard Oboimov, co-founder and CEO at eTEU says:
"Before co-founding eTEU I have managed a company which imported consumer healthcare products from more than 20 different countries. Consequently, efficient logistics played a crucial role in our business. One time we had bought products from a new supplier in China who was supposed to deliver products to Kyiv, Ukraine. We had agreed that the supplier would organize the shipment and would cover the cost of delivery of products by ship to the port in Odessa and from there to our warehouse in Kyiv by the track.

We had made the pre-payment for this shipment, however, after receiving document originals from the supplier just a couple of days before the shipment was due to arrive at the port, we realized that the supplier had only paid for the delivery of goods to the port in Odessa. We had to pay the port charges ourselves and hastily find the logistics company which will deliver the goods to Kyiv to avoid the costly demurrage. It turned out that the freight forwarding company of the supplier had used the wrong Incoterm on the documents, a mistake which could not be noticed on our side until we had received the documentation. We spent weeks figuring out what went wrong and had to pay thousands of dollars in additional transportation costs, due to unclear communication between parties involved in the shipment."
On one hand, eTEU team is solving these issues by connecting members of the supply chain on a single platform, automating the process of preparing documentation for the shipment, digitizing document originals such as the Bill of Lading, and establishing an immutable audit trail of the shipment using blockchain technology. Instead of preparing documents one by one, users complete a single 'Master Form' which is used to gather information regarding the shipment, and the platform auto-generates the entire document package for the shipment saving time on documents preparation. Documents are approved and transferred between parties involved in the shipment in digital format via the blockchain network, establishing clear communication channels. eTEU platform can be used as a standalone application or integrated into existing software using the API endpoints. API integration is at the core of the project, and thus enables integrations to be made simply and swiftly.
On our side, at Cargofive we developed a digital solution specially designed for freight forwarders who want to join the maritime industry's digitalization and improve their processes. On our platform, they can access rates from different providers in one place, prepare quotations in minutes, and send them to their customers faster which improves their experience. We collect the information they need to make a quote or look for rates, we centralize and standardize it. In addition, we have high flexibility to integrate via API in order to make communication between different parties more fluid.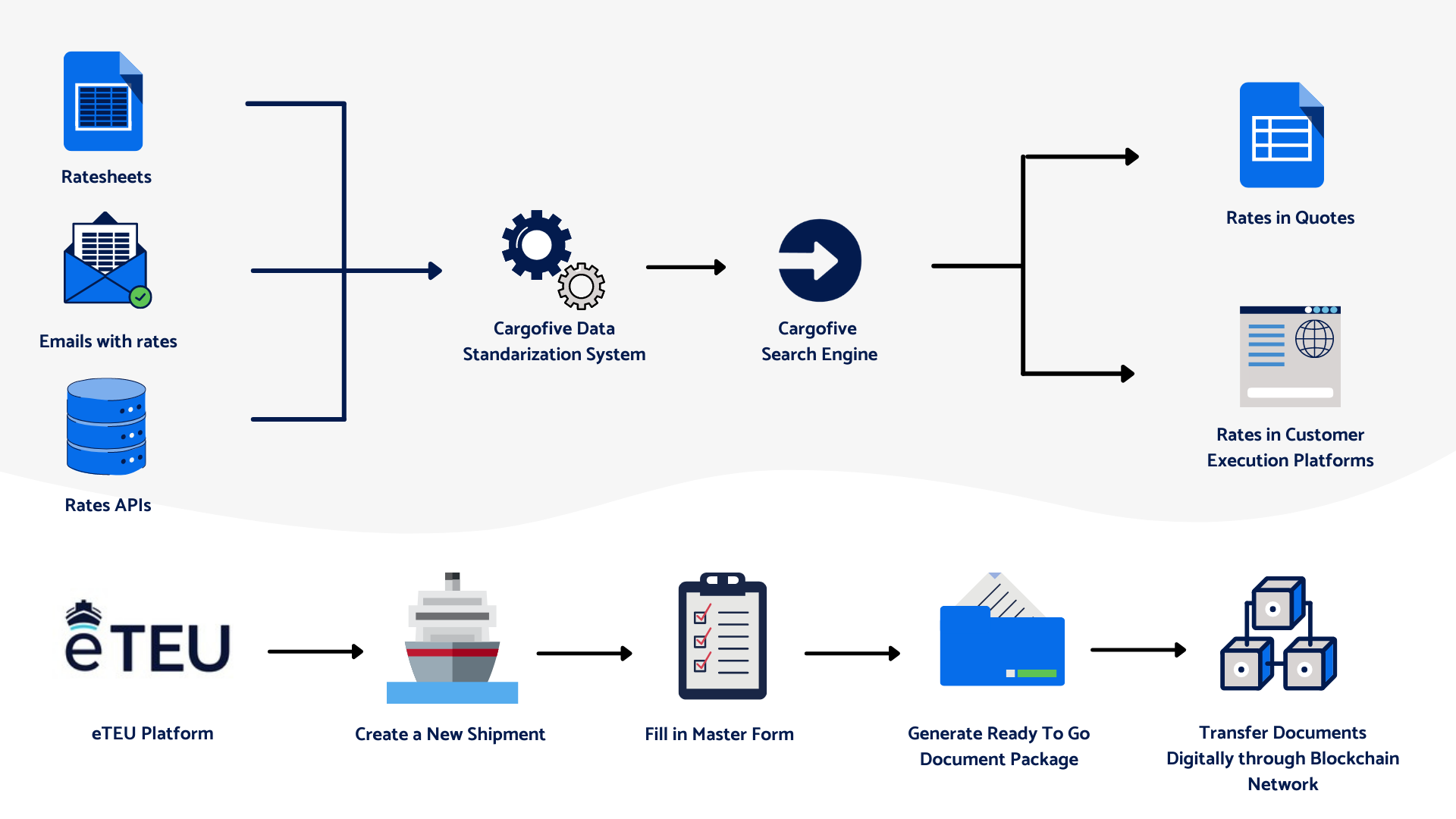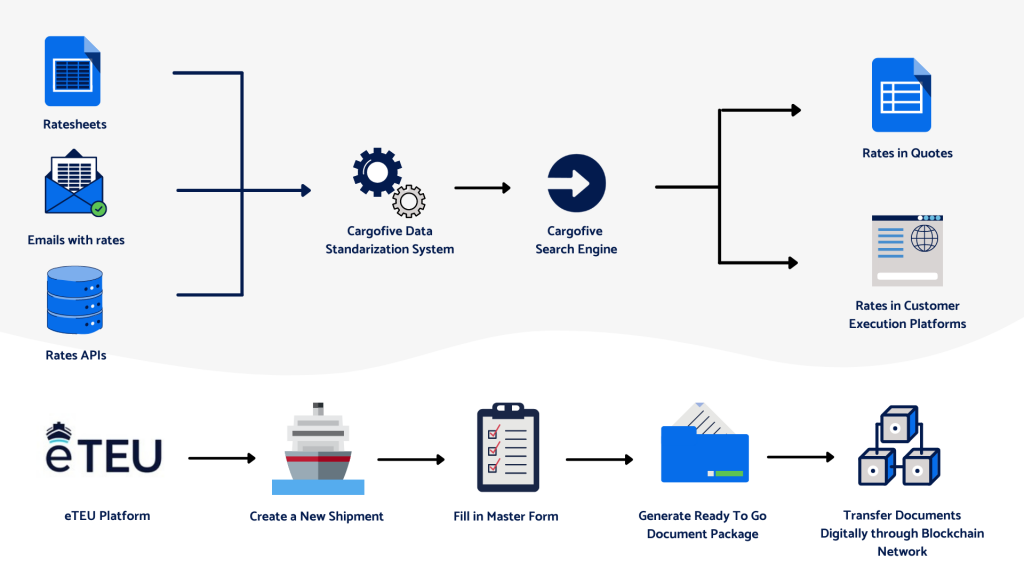 We're living in a digital world. From booking a flight to ordering a meal and buying almost anything, you can do it all from your laptop or phone. Quick, easy, and convenient, it has become a norm that, quite frankly, it's really hard to do without. Containers shipping has to be part of this digital world also, but searching for a simple quotation or booking a shipment can take even days.

Sebastian Cazajus, co-founder and CEO at Cargofive.
Our goal is to drive the digitalization of the industry and improve the way of doing the tasks of the parties involved in it. Although there is still much to do, this is a ship that is about to sail and we need to get on board it as soon as possible so that we are not left behind. We invite you to join this journey and become disruptors of the maritime industry.
Freight forwarders that want to stay competitive in a post-COVID-19 pandemic world need to accelerate their digital transformation and digitalize their entire customer experience. This means to improve the process from quotation, booking, up to visibility, and shipment data analytics.

Sebastian Cazajus, co-founder and CEO at Cargofive.
*Source: DCSA takes on eBill of Lading standardisation, calls for collaboration