With the uprising of digital transformation, traditional freight forwarders are being threatened by five types of companies. There are now startups, suppliers, and even customers using new technologies to develop many business models that improve the customer experience and the operations' efficiency. These new digital business models have the strength to seize the industry's leadership, leaving the traditional forwarders behind. So, every traditional freight forwarder that wants to survive has no choice but to join digitization.
Traditional freight forwarders being under threat by new business models is not such a new thing. It has been growing since digitization kicked off, but it's getting more and more important. This is not something to underestimate, since it may be decisive when it comes to a business' survival.
Digital transformation in freight forwarding, where most of the processes are done manually, can actually reduce up to 40% the operational costs and other direct costs even more. Of course, this only means it is a big opportunity for new competitors to take over the market. Customers are already demanding faster responses to their requests and will surely choose the provider that offers them a better experience.
In fact, there are many companies that are already fighting to earn their position in the market. This is why there are five types of companies that are threatening traditional freight forwarders.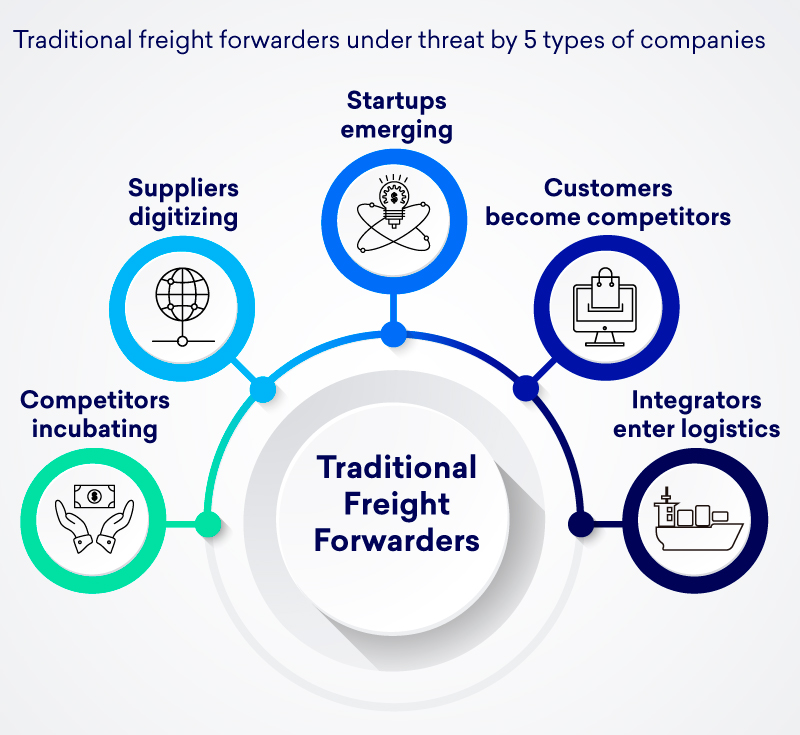 5 types of companies that are threatening traditional freight forwarders:
1. Competitors incubating:
There are forwarders like Agility's Shipa Freight, Kuehne + Nagel and Damco's Twill Logistics that are digitizing their approach to the market, as well as incubating new business models to reinvent the customer experience, improve the benefits, and to give the growth a boost.
2. Suppliers digitizing:
Carriers are also facing digital transformation to keep up with the market's needs. For instance, Maersk line and Hapag-Lloyd want to offer instant quotes to reduce the time it takes to book a freight as much as possible. It is more and more common for carriers to sell directly to shippers, leaving the freight forwarders a side.
3. Startups emerging:
By developing digital business models, startups can offer a much better customer experience with solutions adapted to the client's needs, as well as it provides more visibility to the supply chain. For instance, there are FreightHub and Flexport.
4. Customers becoming competitors:
Some of the freight forwarders' bigger clients, that have strong technological capacities are looking forward to improving and having complete control of the online customer experience. So, they are now trying to get in the freight forwarding industry. Let's take Amazon for example.
5. Integrators entering the logistics industry:
On the other side, integrators like UPS and FedEx are in constant expansion of their activities in logistics. They are taking full advantage of their end-to-end IT systems.
Definitely, in a scenario where there's not yet strong market domination by any of the competitors, the idea of becoming the number one is very tempting. They are all now counting on digitization to improve both the operations' efficiency and the customer experience. This only means that traditional freight forwarders are in check.
These five types of companies are bringing innovative business models that can turn the industry upside down. Traditional freight forwarders will need to digitize their business to be able to keep up with the market, or they will soon be left behind and will fade away.
Luckily for them, there are already tools and softwares developed that can help to make digital transformation easier for them, such as Cargofive. So if they don't want to keep losing valuable time, they can look for partnerships or solutions created specially to help traditional freight forwarders. The new era of freight forwarding has already begun and it's heading to nothing else than growth!